What is the ZMN-BTCFUND?
ZMINE has proudly presented the new feature on www.zmine.com which is the  "ZMN-BTCFUND"
It was established to allow ZMN holders to redeem their ZMN tokens to BTC and payback on the due date according to the chosen redemption period.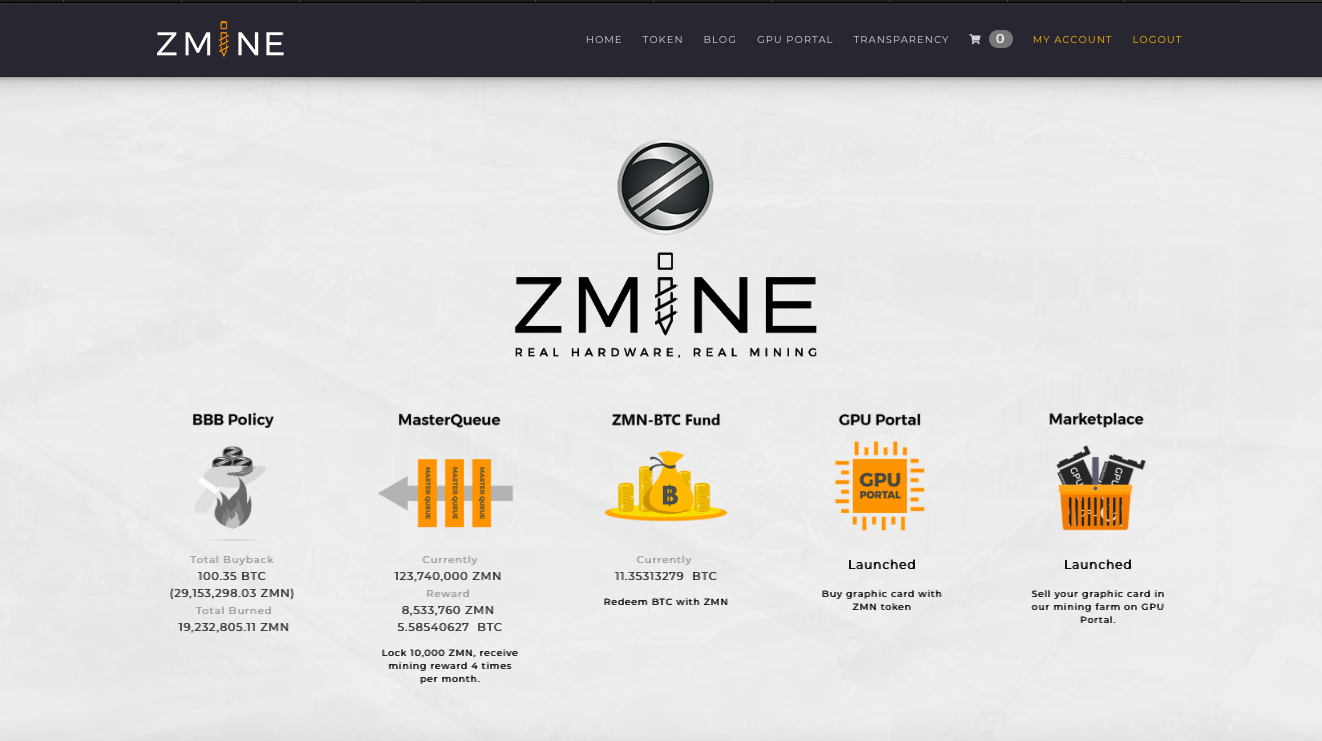 How to redeem?
Log in to your account on www.zmine.com or enter www.zmine.com/btcfund. Once you entered the website, you will see the snapshot summary of the redeemable balance.
Make sure that you have created your Masterqueue in order to redeem. If you haven't, please create the Masterqueue as follows.
Scroll down to the "Create New Contract By Using MASTERQUEUE and click > Here <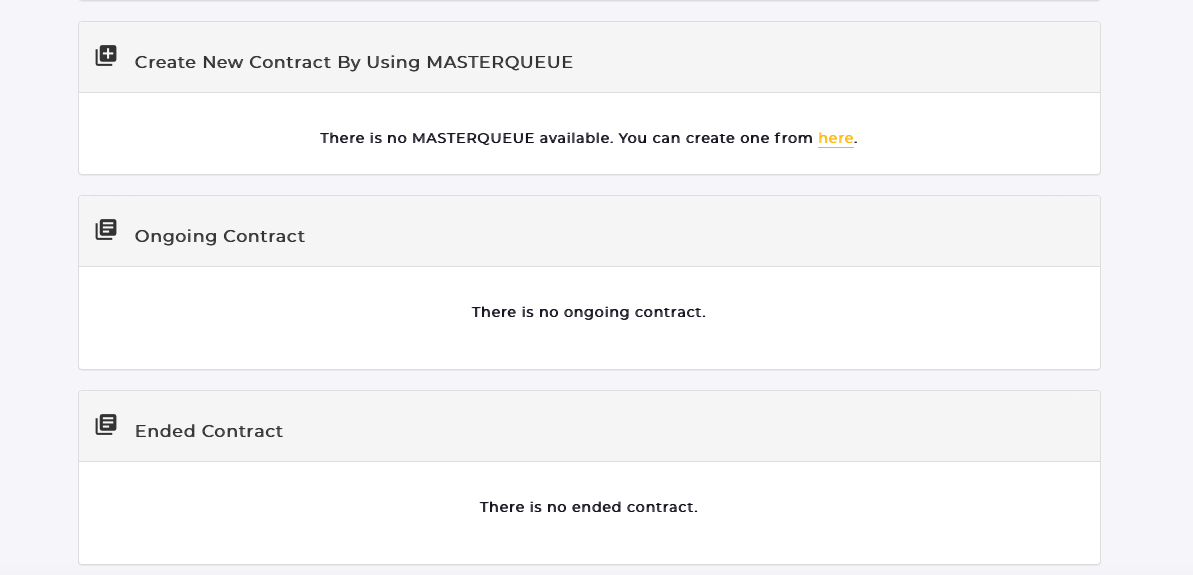 The system will link you to the masterqueue page to create an order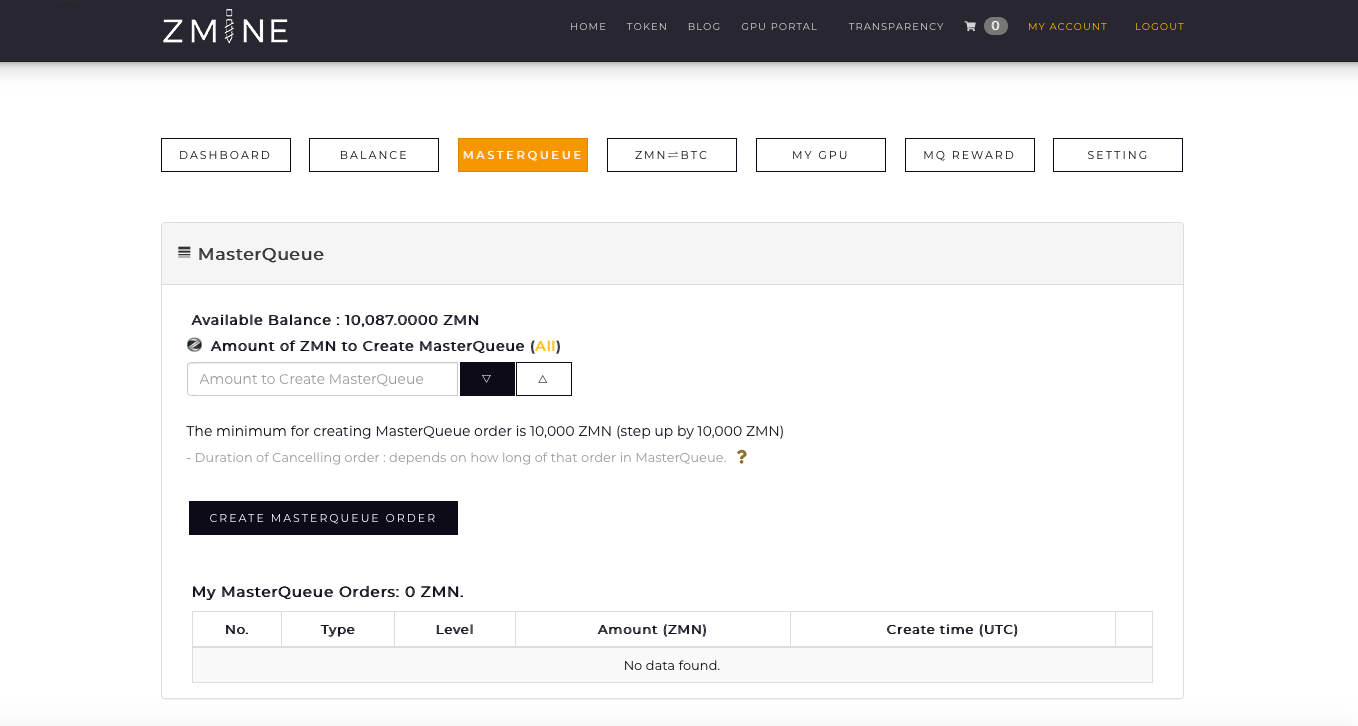 Enter the amount and click > OK < to confirm the creation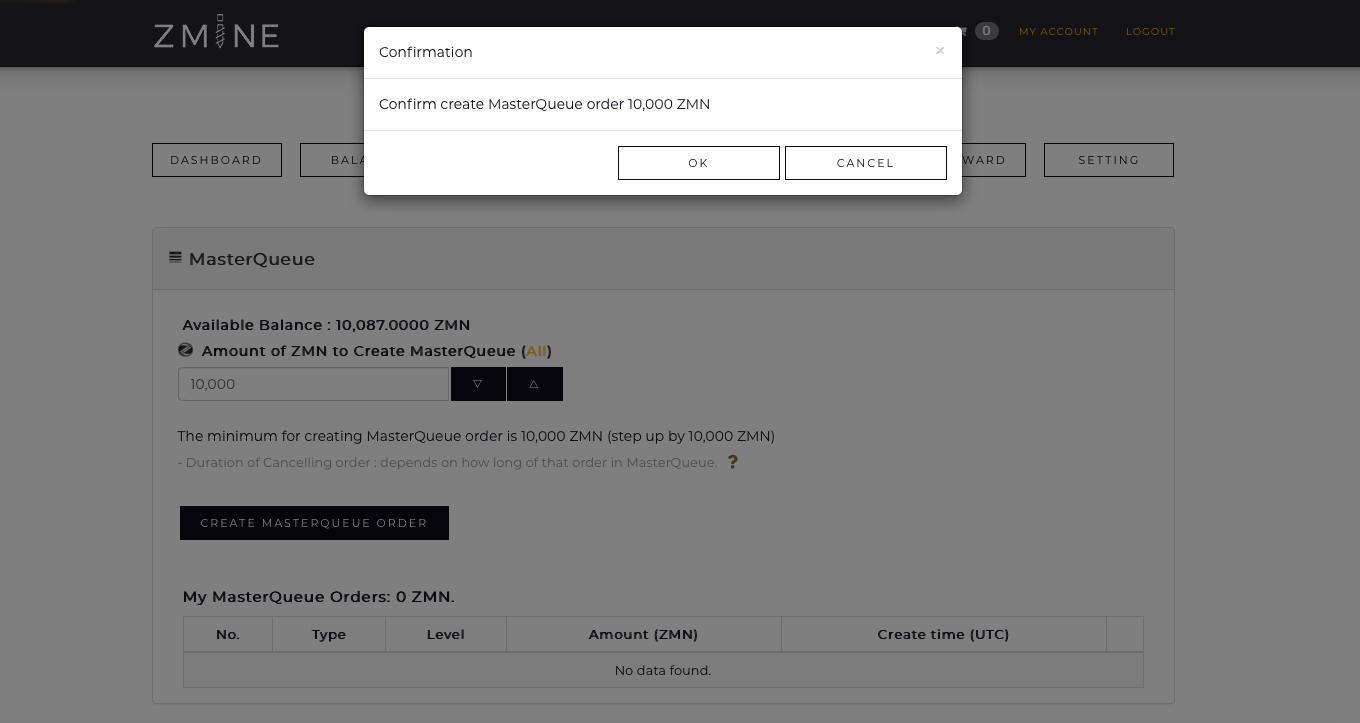 Once you created the Masterqueue, you will be able to create a new contract.
Every masterqueue you created can use as collateral and start redeeming for BTC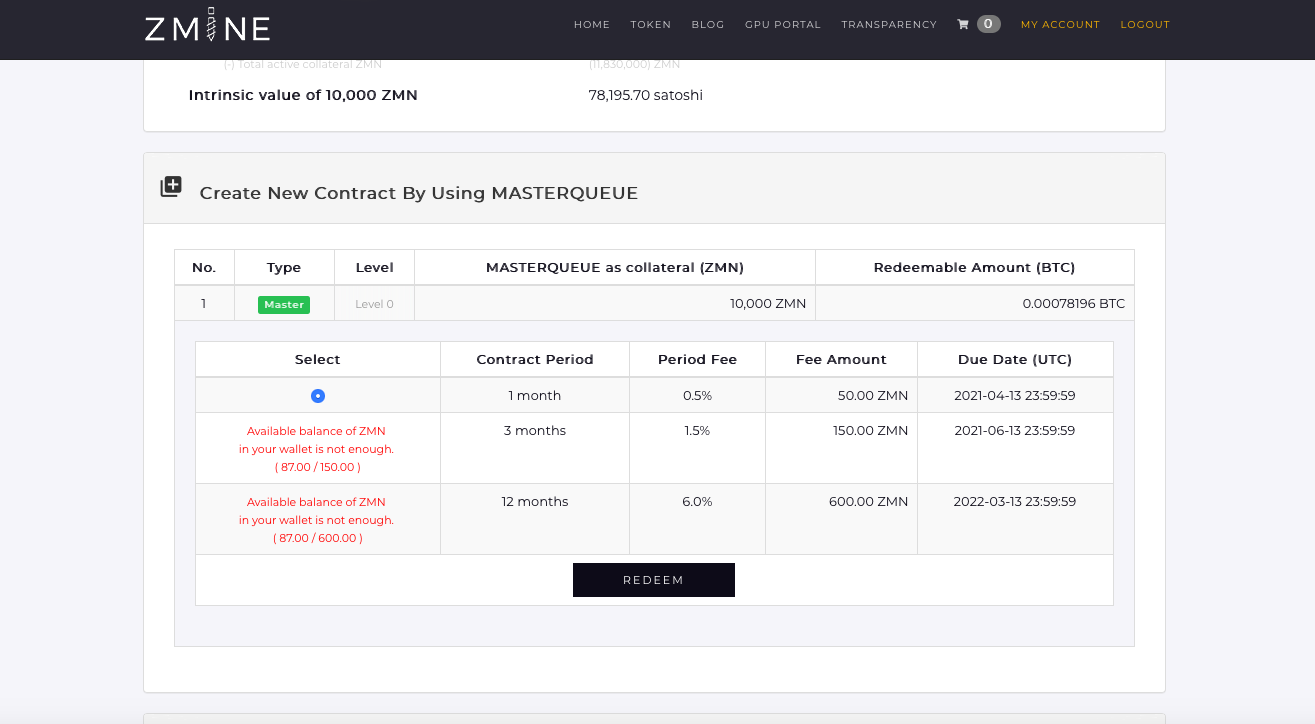 3. You can select a redemption period between 1, 3 or 12months
Redemptions fees now are fixed at 6% per year. The fees are calculated and paid via ZMN token
The redemption fee will deduct the full amount from your ZMN available balance immediately after the contract created completed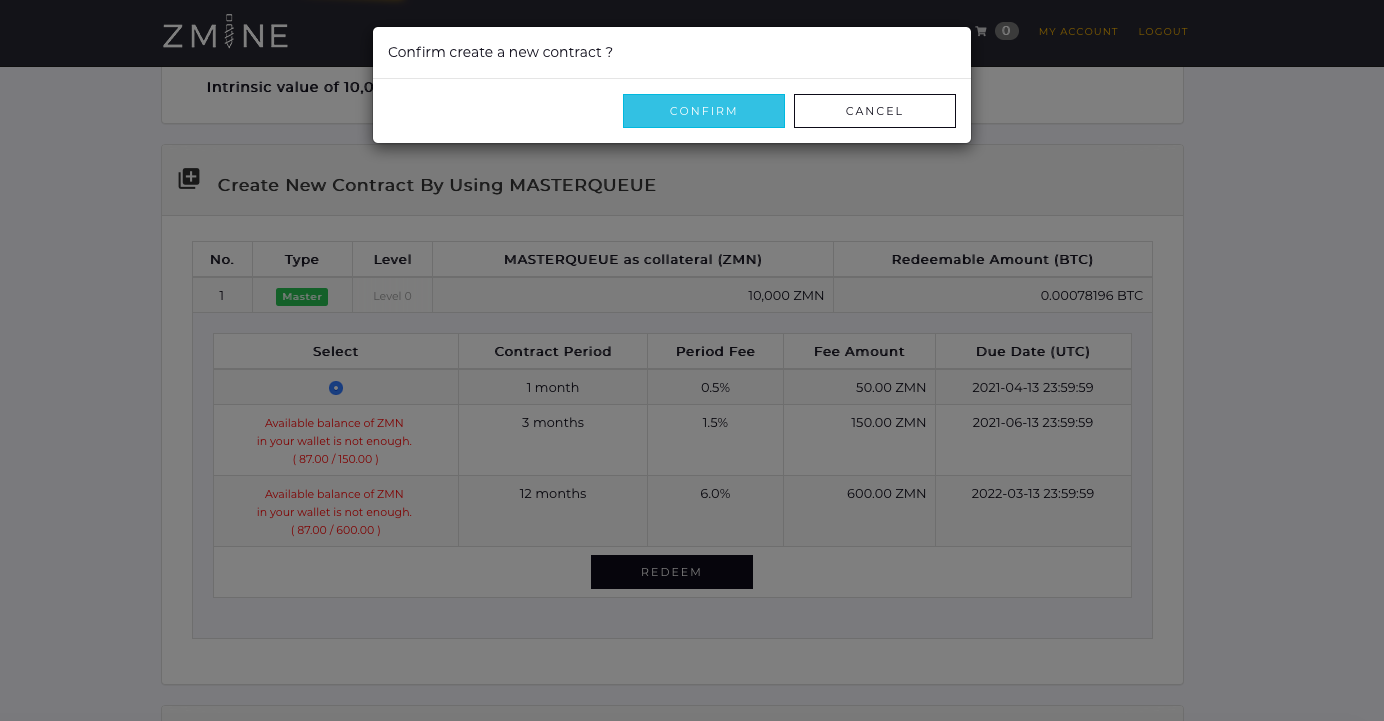 4. After you choose the redemption period, click > Redeem < to confirm to create a new contract.
The confirmation email will be sent to your registered email address. Remember to confirm the transaction within 24 hours.
Then you are all set!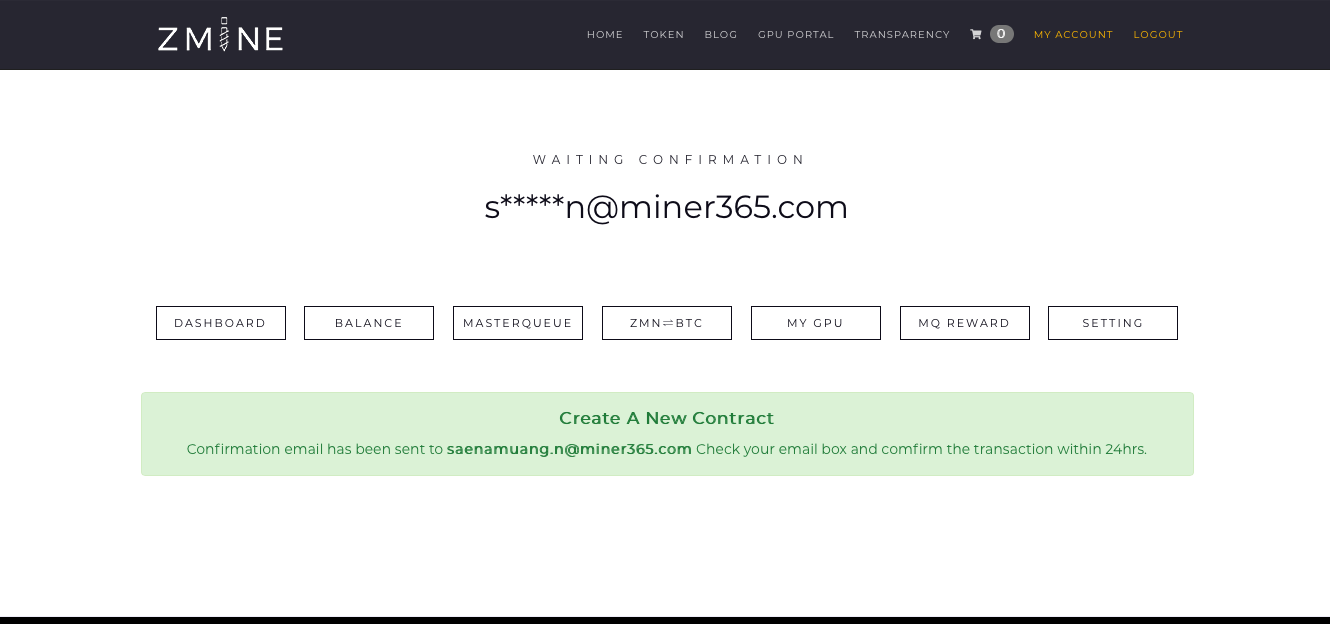 After the contract created, you will get BTC on your balance and can be withdrawn to your chosen BTC address as before.
Please make sure that you remember your due date, and return your redeemed BTC before that time.
Otherwise, your masterqueue collateral will be seized for burn
**Important notice**
Due to the huge success of the De-Fi application in the cryptocurrency world, users from all over the world can join decentralized applications by just connect to his/her crypto-wallet. Each user is identified by their public coin addresses and no registration or signs up required anymore. As we wished to expand the ZMN market to the global market, we have decided that the following changes will be made :
ZMNBTCFUND will rebrand to ZMN⇌BTC
ZMN Token will mainly focus on the ZMN⇌BTC system
Masterqueue reward will gradually decrease and move all reward to ZMN⇌BTC
Feb 2021 Mining Profit: Send to ZMN⇌BTC: 60% MasterQueue Reward: 40%
Mar 2021 Mining Profit: Send to ZMN⇌BTC: 70% MasterQueue Reward: 30%
Apr 2021 Mining Profit: Send to ZMN⇌BTC: 80% MasterQueue Reward: 20%
May 2021 Mining Profit: Send to ZMN⇌BTC: 90% MasterQueue Reward: 10%
Jun 2021 and onward Mining Profit: Send to ZMN⇌BTC: 100% MasterQueue Reward: 0%
Websites with the new system will launch on 17 July 2021
Anyone can connect his crypto-wallet directly to zmine.com and use ZMN⇌BTC immediately with The new system
On 1 July 2021, the following event will occur
The current ZMN⇌BTC Redeem system will turn off the acceptance of new orders
New member registration and GPU Portal will suspend
The Balance system will stop accepting new deposit transactions
Existing users can still log in to withdraw ZMN, BTC and can return redeemed BTC from the old ZMN⇌BTC system normally for at least 12 months
If you have any questions or concerns, please feel free to contact our support team via the following channels :
Facebook fan page: ZMINE Official
Email: [email protected]
[email protected]: https://line.me/R/ti/p/%40zmine
Thank you!