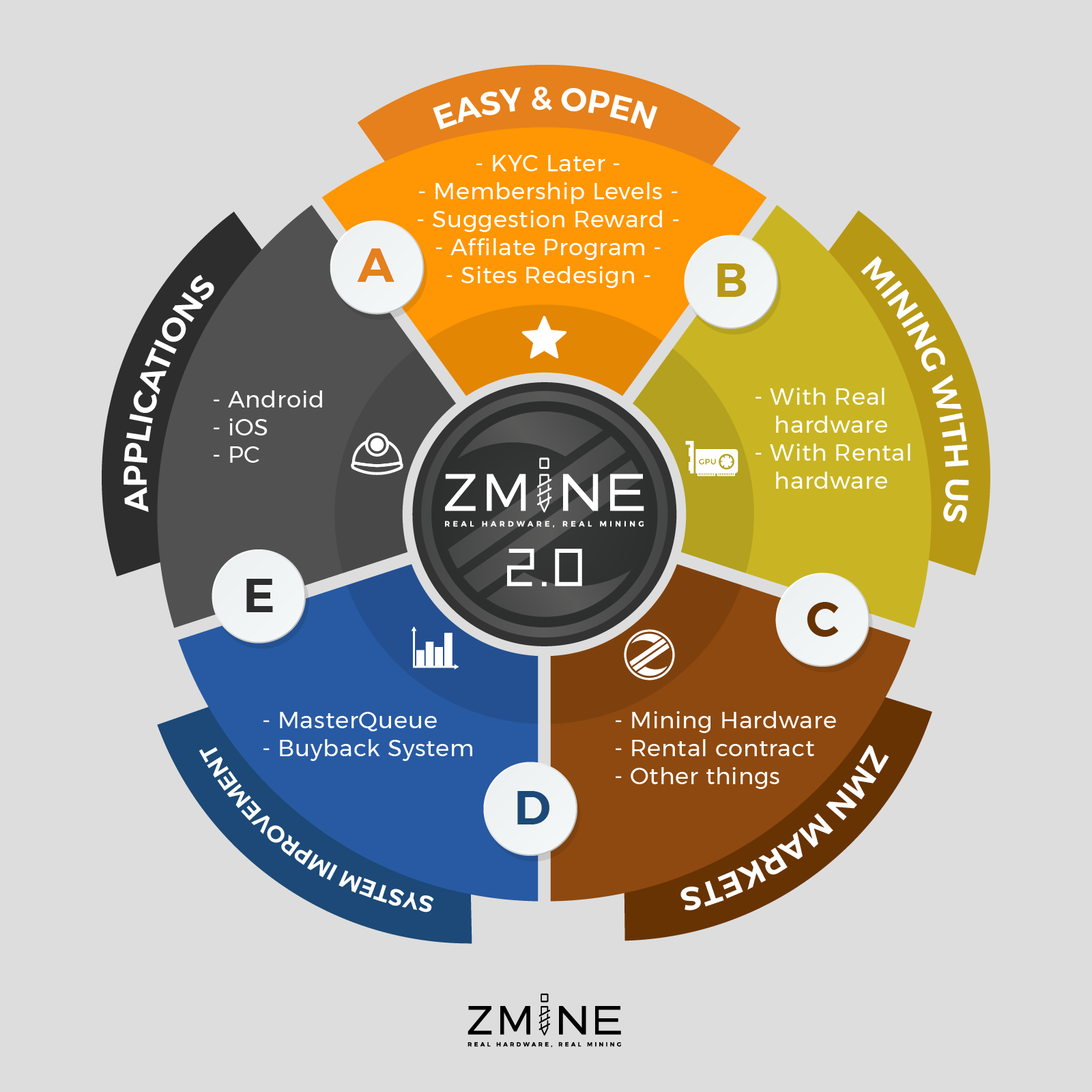 WHAT YOU WILL SEE IN
ZMINE 2.0
A. Easy & Open
– KYC Process
Register at ZMINE.com solely verify email address. Then users can deposit ZMN token and setup MasterQueue straight away. However, when users would like to withdraw or buy/sell product on the site, users are still required to complete the process of Knowing Your Customer (KYC)

– Membership Levels
The more ZMN token you hold the more rewards you shall deserve. Therefore, we will offer multi-levels of membership. Each level has particular privileges. As the membership level heightens, so does the rewards and privileges.

– Affilate Program
Each account will have a referral code on 'My Account' page. A user who introduces ZMINE to new users could get reward from the system.

– Suggest Reward
To get broader acknowledge, the old ST Reward is now renamed as 'Suggest Reward'. Suggest Reward is held in BTC and will distribute as a reward for Affilate Program that paid both you and your referral when your referral meet certain conditions.

– Sites Redesign
ZMINE.com will be updated with new and easy functions for a better user experience including interface design improvement.
B. Introducing "Mining with us"
– This is our main focus system. ZMINE will offer cryptocurrency mining packages based on real existing hardware devices (not based on algorithm like other cloud mining). User will be able to buy mining packages through fiat money, credit card or bitcoin. Mining profit returning rate will base on your membership level which will be adjusted every month.
C. ZMN Markets
– Current GPU Portal with Marketplace feature will be rebranded as "ZMN Market". This will allow you to buy and sell things other than graphic card with ZMN token.
D. System Improvment
– MasterQueue
MasterQueue now have only 'Master' type. Queue and USDz are deprecated. In the future, MasterQueue reward might be paid via Bitcoin instead of ZMN Token.
– BuyBack System
We are considering to improve buyback process in various aspects. However, you can be ensured that half of mining profit will still use to buy ZMN token back and burn out from circulation system as we have stated in our whitepaper.
E. Mobile and PC Applicaiton
ZMINE planned to develop native application for mobile and PC devices. This will help us communicate with our users better. Moreover, This will be a great opputunity to expand our customers base to those platforms.
These informations are just a brief overview of the 2.0 operation plan. If there is any further changes or officially opened for use, will be announced with more details again on our official social media channels.
Thank you,
ZMINE team
#ZMN #ZMINE #Cryptocurrency
____________________________
Follow us on social media channels :
E-mail: [email protected]
Website: https://zmine.com
Twitter: https://twitter.com/zmineofficial
[email protected]: https://line.me/R/ti/p/%40zmine
Telegram: https://t.me/zminegroupchat
Bitcointalk: https://bitcointalk.org/index.php?topic=3407715.0