ZMINE First Year Summary
ZMINE is a crypto mining asset with unique technology. We started presale on Jan 2018 and start full operation in June 2018. Up until now, June 2019, we have paid more than 141 BTC back to customers which included 50BTC for presale customers and 91 BTC to Buyback and Burn process. Apart from trading on a cryptocurrency exchange, ZMN token holders can also get benefit with our GPU Portal, Master Queue and Star Reward features.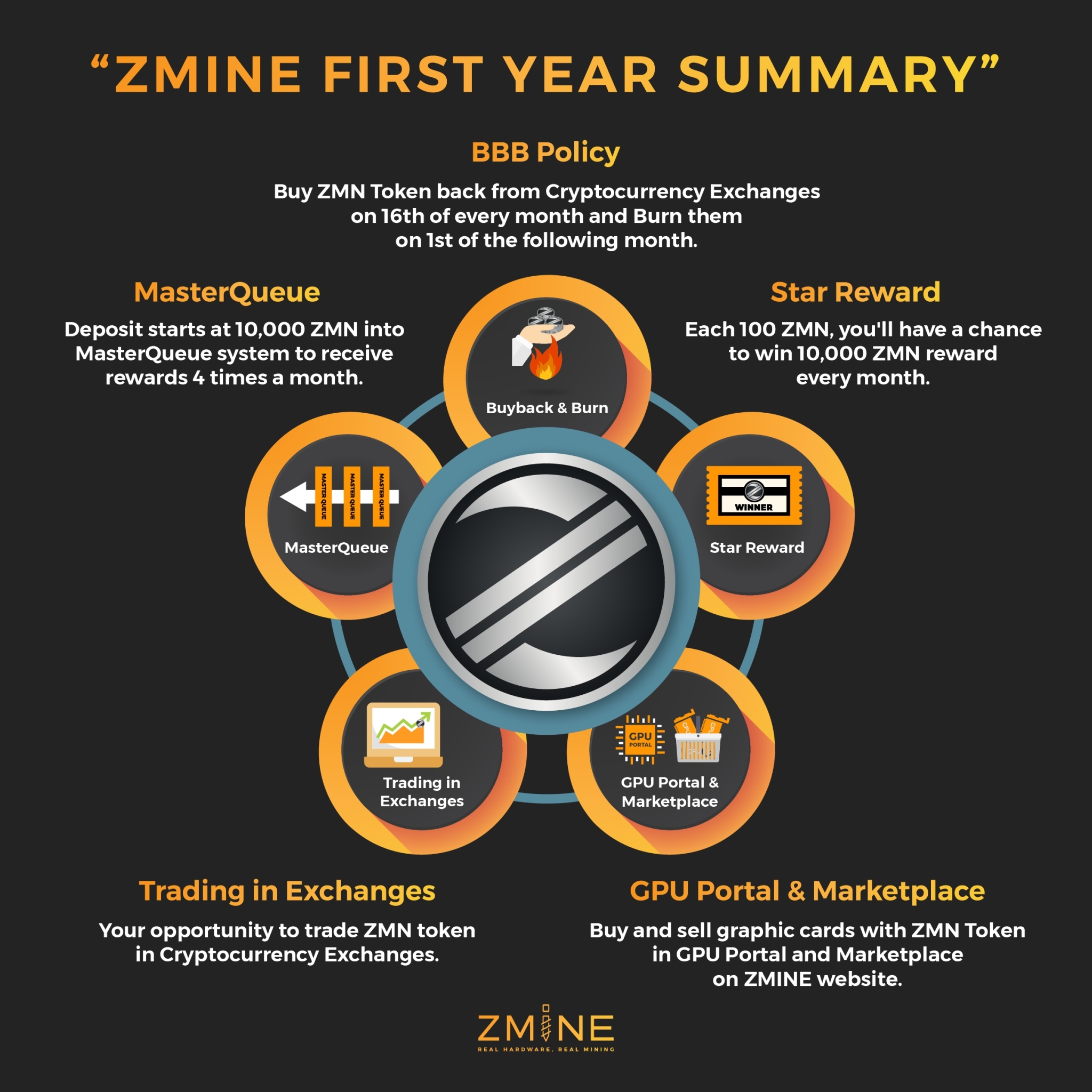 Buyback and Burn Process
ZMINE is using generated cryptocurrency from ZMINE asset to Buy Back ZMN on the 16th of every month and Burn them on the 1st of the following month. The result as follows
Buyback period 16/06/2018 – 16/06/2019
Buyback amount: 90.0029031 BTC
Buyback estimate: 572,396 USD (17,744,288.30THB)
Buyback ZMN: 16,633,474.46 ZMN (9.85% of Circulating Supply)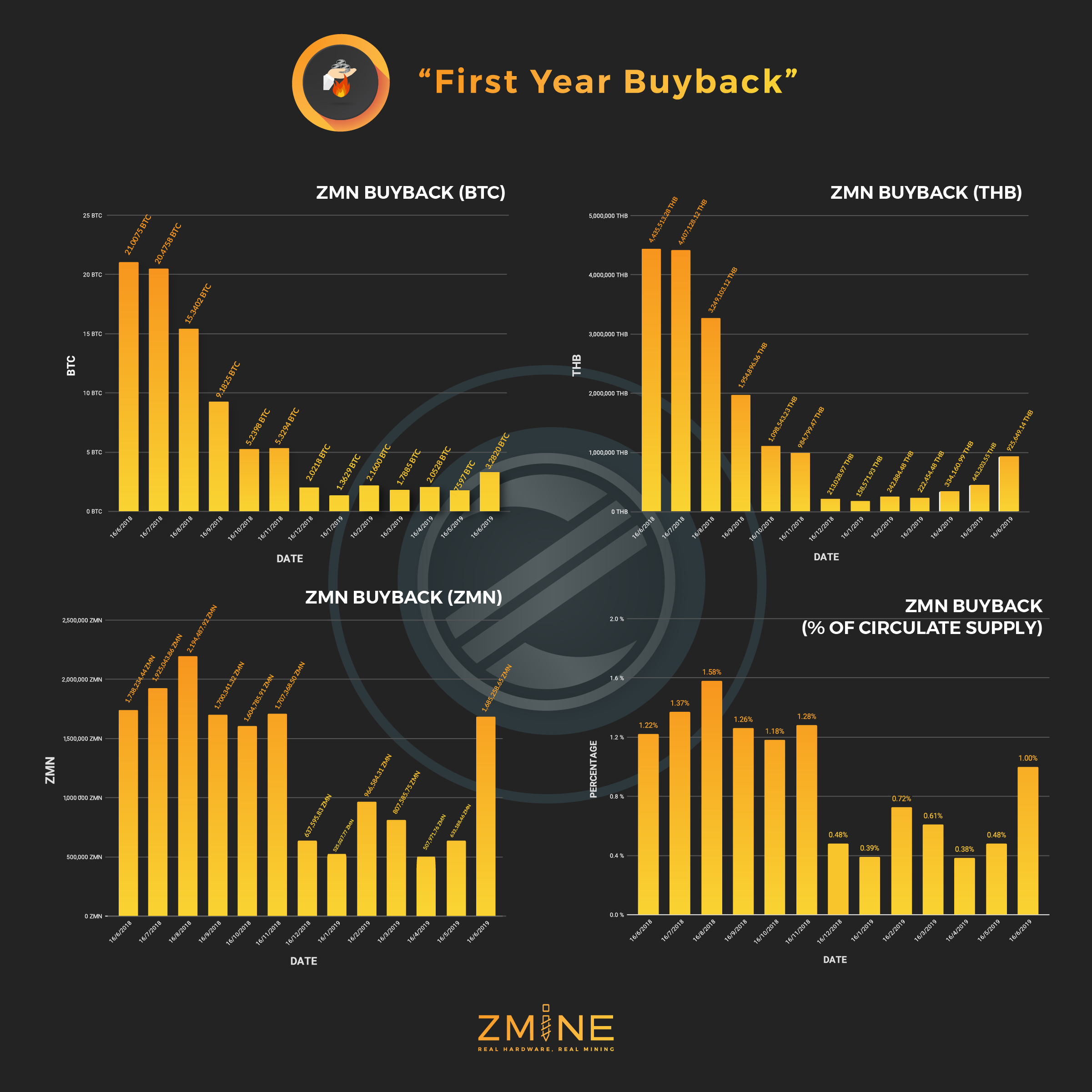 First Year Roadmap Summary
1. Rigs Installation
In 2018, mining profit has been dramatically different between the first and second half of the year, thus, ZMINE decides to use a different strategy in a different phase described below
PROFITABLE MINING PHASE (01/01/2018 – 15/08/2018)
In this period, the mining profitability is very good, our strategy aims to rocket up the mining as fast as possible. Then, we started presale on Jan 2018 and started mining right away. This resulted in more than 50BTC have been paid to presale ZMN holders and we manage to accomplished 12,090 graphics cards installation at the end of July 2018.
HARDLY PROFITABLE MINING PHASE (16/08/2018 – 01/04/2019)
In this season, mining profitability has been shrink down more than half. We worked very hard with many optimizations including turning off many graphics cards during the daytime. Therefore, we decided to invest in the high-end graphics card for long term mining instead, reflected in the addition of 230 units of NVIDIA GTX1070TI, 139 units of GTX1080TI, and 2,000 sets of mining component which included CPU, RAM, MAINBOARD, SSD, PCI-Riser, and PSU.
CURRENT PHASE 02/04/2019 – TODAY
At this stage, mining profitability seems to be in an uptrend and we are able to resume our 24 hours mining operation. As we prepare and maintenance many things in the previous phase, ZMINE now more than ready to enter the bullish market and bring the most profit back to all ZMN token holders. Please stay tuned and keep updated on upcoming month profit.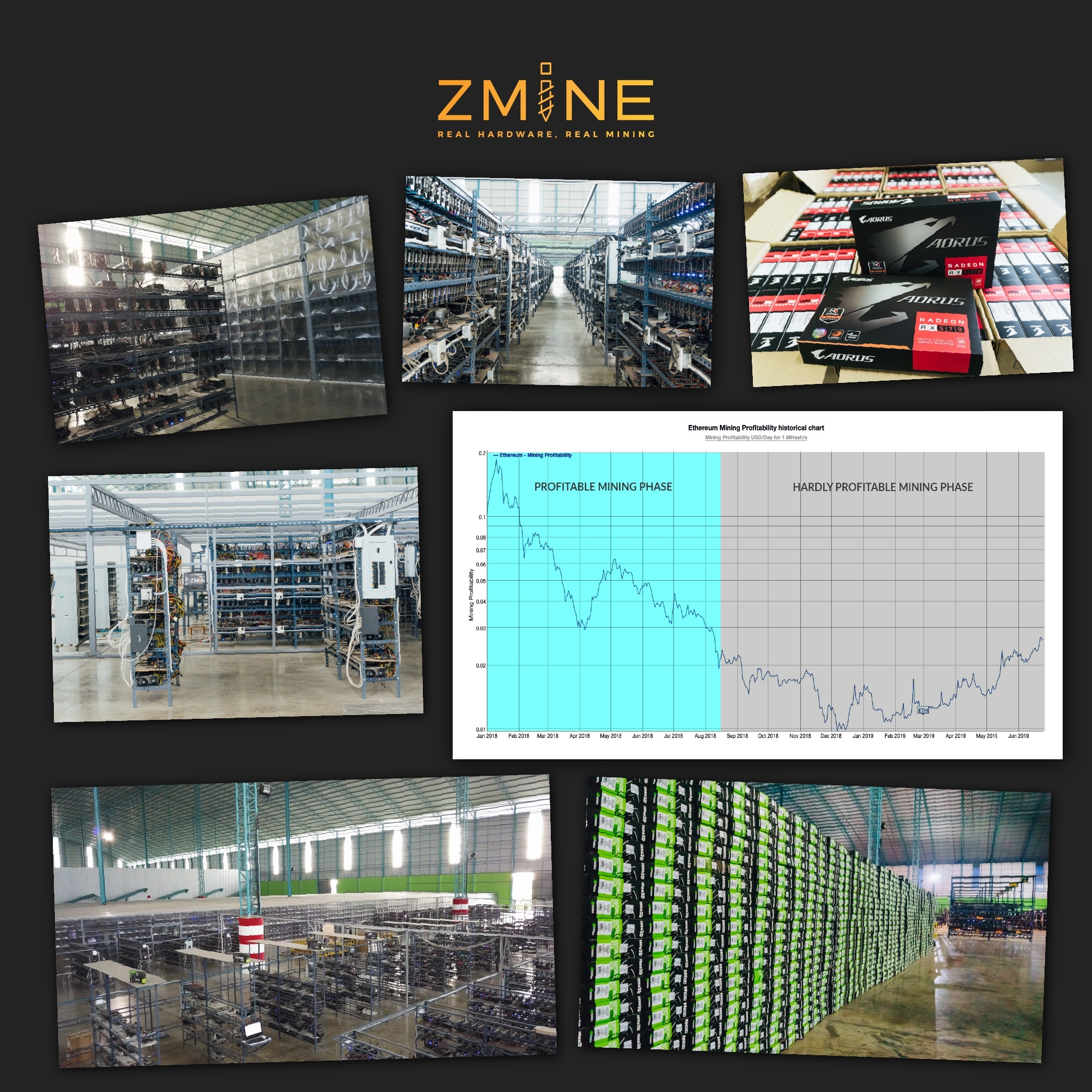 2. Website Development
ZMINE.com site has been well developed and includes various features as all you can see. We support 2FA and enable Deposit & Withdrawn ZMN token. This is considering it done and will have many more features & improvement soon.
3. Graphic Cards Marketplace
We open GPU portal exclusive phase with enable to redeem ZMN token to the graphics card at 1ZMN = 0.045USD on 25th Dec 2018 – 25th Feb 2019. Although mining profit was not that impressive during that period, GPU portal can still be sold as of 905 GPUs and received 6,335,401.11 ZMN. Which exchanged to 139xGTX 1080TI in March 2019 with our WRYGC customers. Presently, GPU Portal is available for everyone with Marketplace feature that enables you to buy & sell graphics card in our mining farm since 30th May 2019.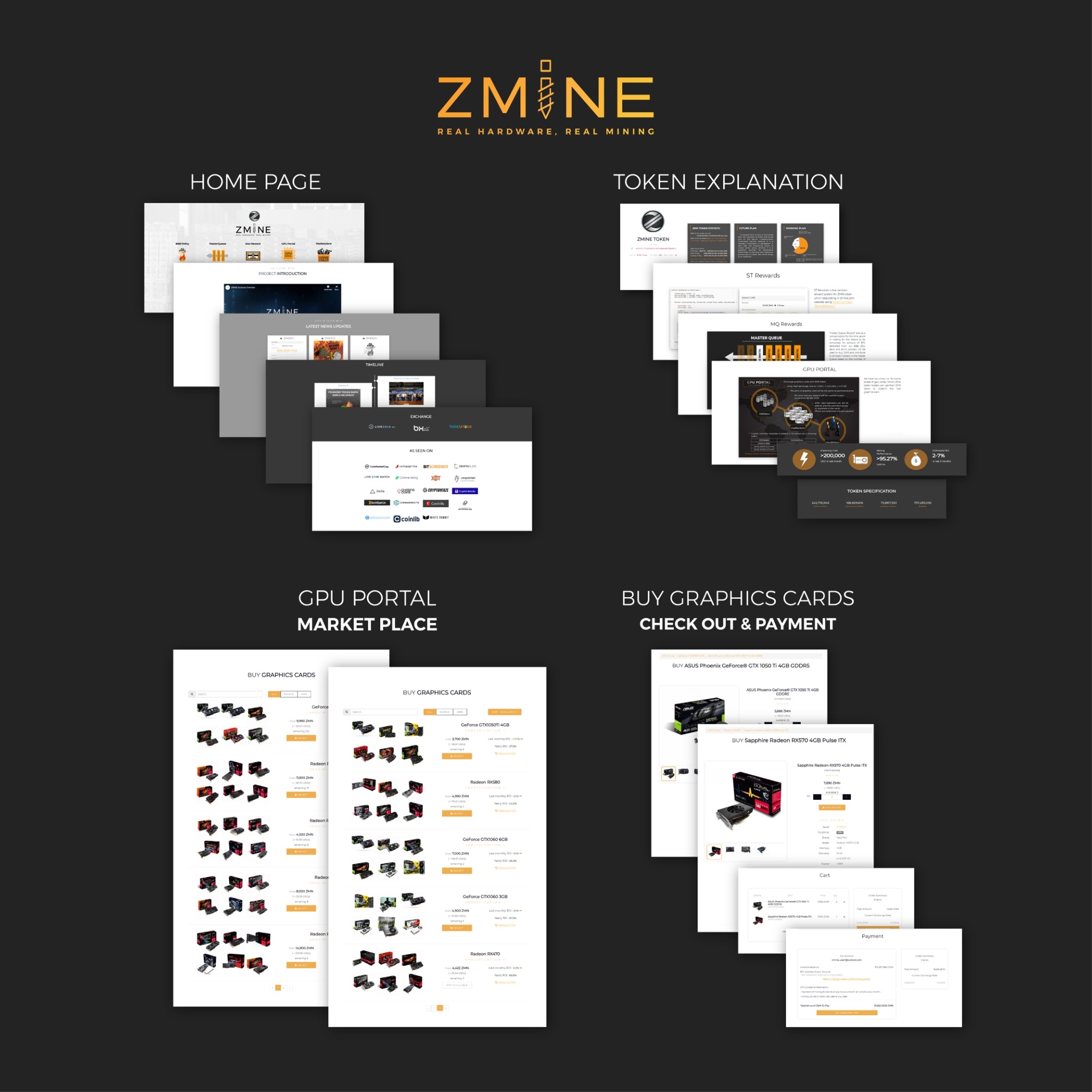 4. Add Crypto Usage Service
In August 2018, We introduce MasterQueue feature which users can lock 10,000ZMN as a queue and receive 40% of Buyback ZMN token 4 times a month and a chance to win ST reward 2 times a month. Which split from 10% of Buyback ZMN in 10,000 ZMN reward and random lucky person to receive a reward on 1st and 16th of each month. As of now, MasterQueue reward has been paid 39 times with 3,804,658.72 ZMN and ST reward have been awarded 90 prizes with 900,000 ZMN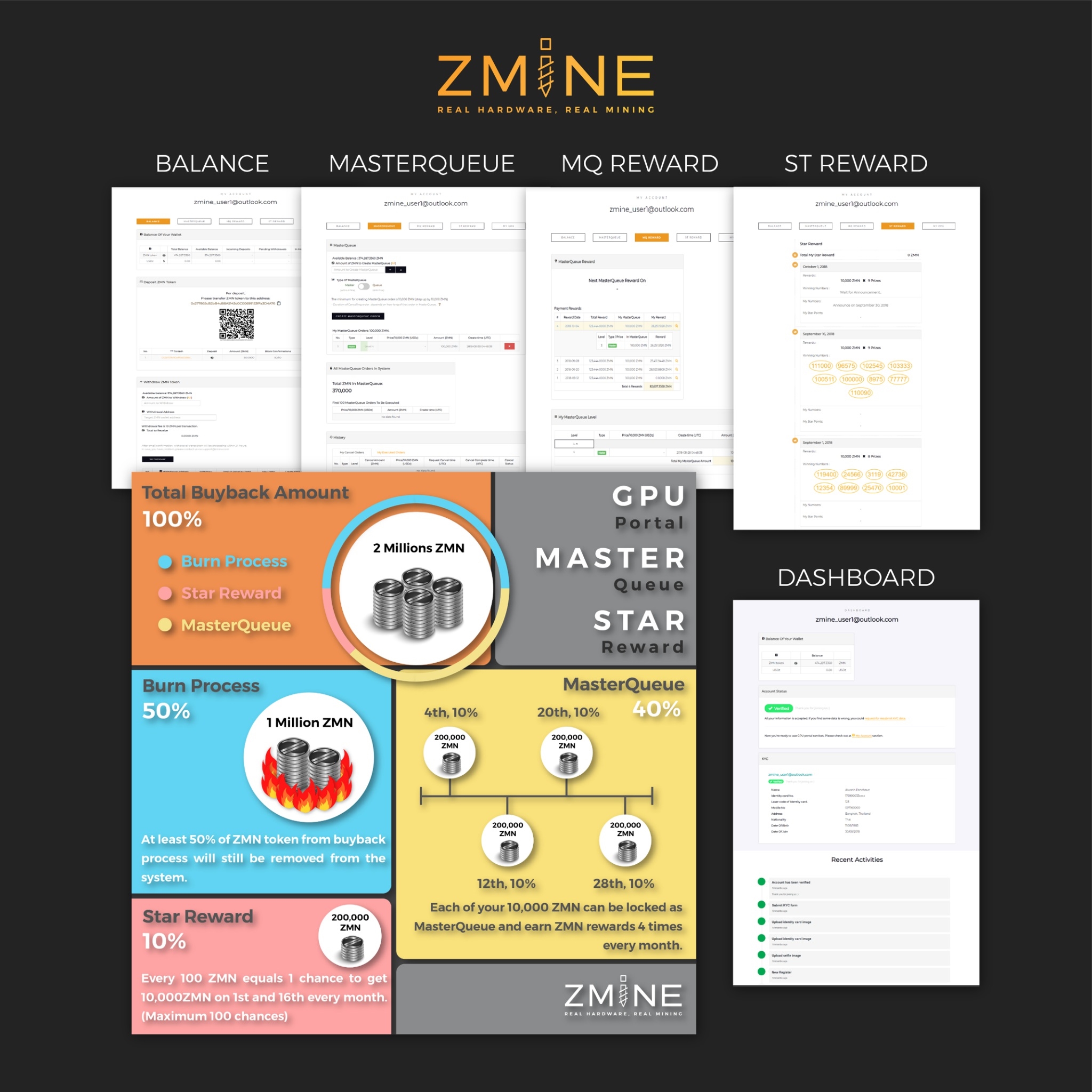 5. Add GPU Alternative Usage
As we are one of the largest GPU mining farms. We have had a business discussion with many companies around the world. As a result, we are a partnership with DeepBrain Chain which is an Artificial Intelligence computing project that raised more than 10M USD and ZMINE runs their software to supply our graphics card processing power to them.
6. Artificial intelligence Asset Management
An AI-ASSM is meant to be a trading system without a human decision. Unfortunately, in the first year, we only face the bearish market so it lacks data when market rise. Anyways, we continue testing this system and may open for beta testing when the result is positive.
7. Professional Mining Service Consultant
Running 10K, 1K, 100 GPU, each is a different story. At ZMINE we have all of these experience for more than 5 years. We are confident to be a professional mining consultant for anyone who wants to use ZMINE system for running the cryptocurrency mining farm and pay usage fee with ZMN Token.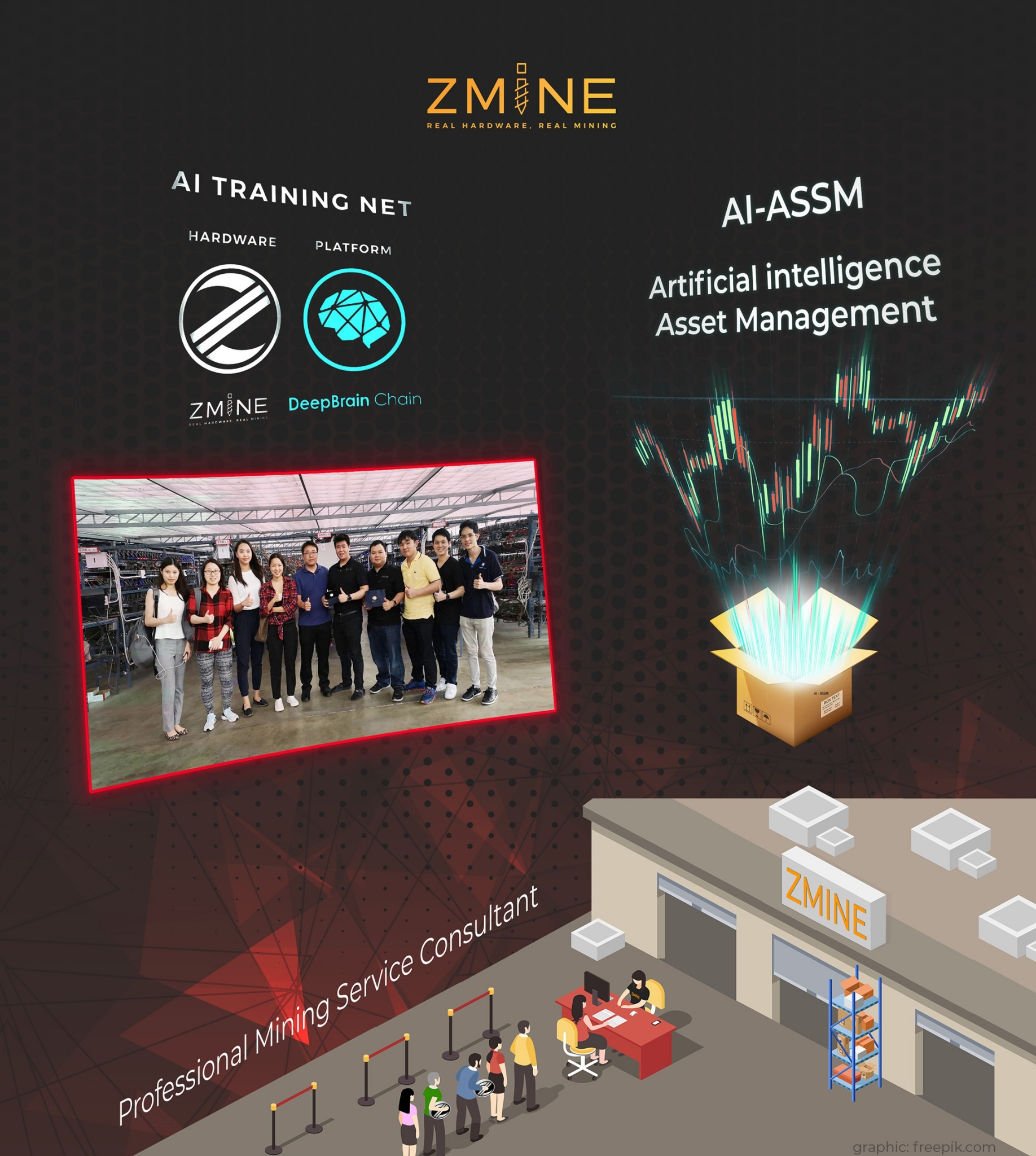 Received Fund allocation Usage 
Mining Equipment 91.11%
– Buy graphic card 70.69%
– Buy mining components (cpu, ram, mainboard, ssd, risers and power supply) 20.42%
Research and Development 3.19%
Including 5 Local Server, Cloud server and domain, Miner development&fee and programmer salary
Team & Marketing 1.46%
Including Support Officer, PR&Marketing Agency, Marketing Event, Office Rental, Law&Tax Advisor and Accounting
Tax 1.09%
Fund Remaining 3.16%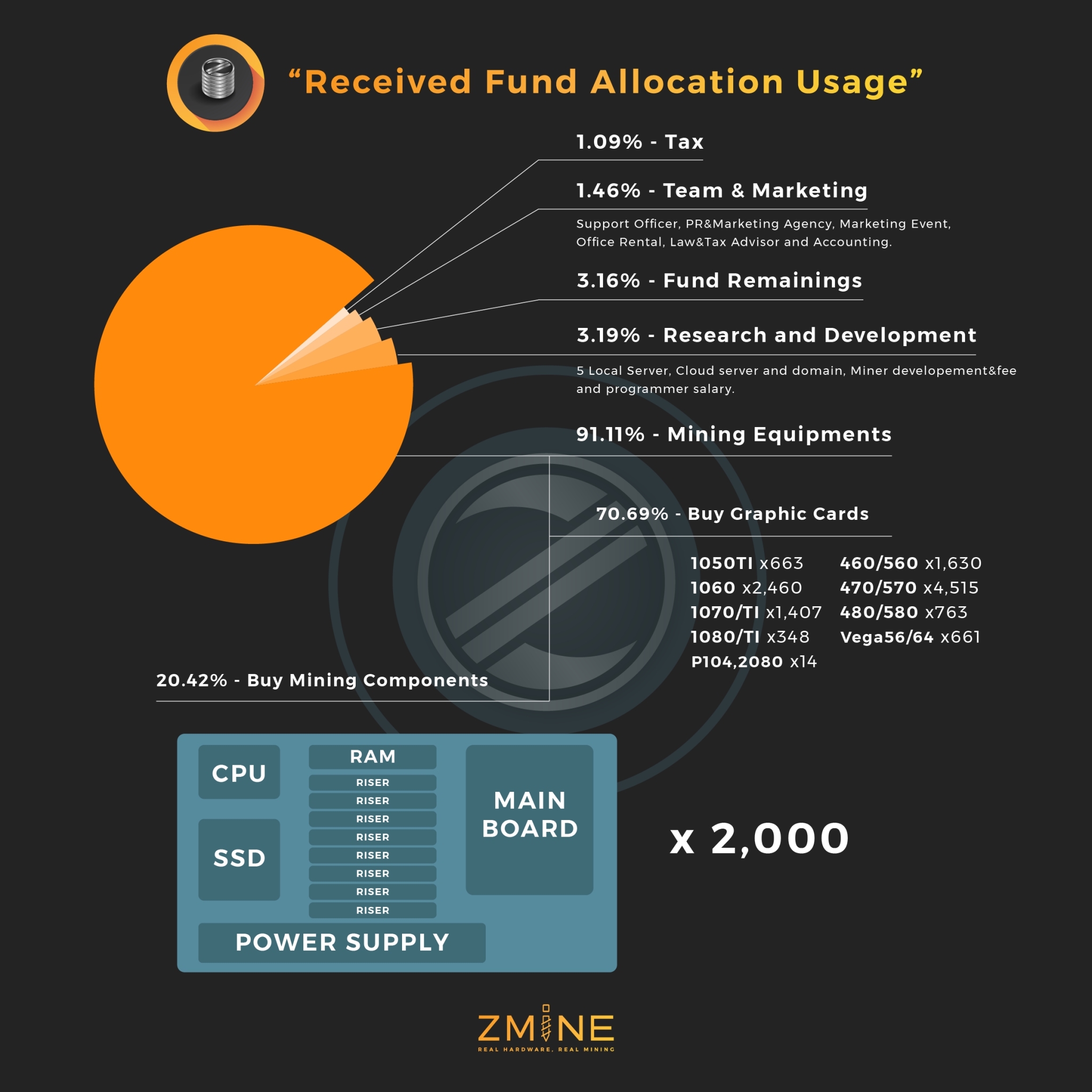 Although 2018 was not be the best year of crypto mining industry, ZMINE still keeps improving the mining process and complete our first roadmap. In this year, ZMINE is ready and will go with Open & Easy concept. Please stay tuned for our new features that will start to roll out next month.